High Quality Heat Pumps in Hamilton | Thames | Coromandel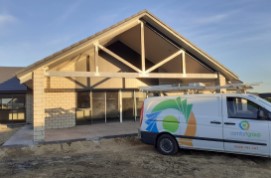 At Comfort Group, one of our key areas of specialty is installing heat pumps in homes in the Thames/Coromandel, and Waikato areas.
We install heat pumps in new build homes as well as homes undergoing renovation or restoration work.
We can also replace the existing heat pump you have if it is faulty or if you want one that is more efficient and/or effective.
Plus, we can install a heat pump in your home if it doesn't currently have one.
To find out more from our expert team, and to arrange a callout so we can give you a quote, please give us a call on 0508 741 741.
Maintaining Heat Pumps in Hamilton and Elsewhere in Waikato
We'll start by recommending the best heat pump solution for your home and budget in Thames/Coromandel and Waikato region. The options available include wall, floor, and ceiling mounted heat pumps as well as ducted systems
All the heat pumps we supply are from leading brands including:
Mitsubishi Heavy Industries
Toshiba
Hitachi
Carrier
Fujitsu
Panasonic
Mitsubishi Electrical
Daikin
At Comfort Group, we install a lot of heat pumps in Hamilton and across the Waikato region. Even with our expert installation services, heat pumps require regular maintenance. Regular maintenance ensures they continue to operate effectively while also helping to reduce the risk of faults from occurring.
Whatever type of heat pump you have, whether we installed it or not, our maintenance services will ensure it continues to operate as it should. The servicing of your heat pump will be carried out by a skilled and qualified technician and will involve everything recommended by the manufacturer, as well as other tasks that we know helps keep heat pumps in good working condition.
Our technicians have experience working with all makes and models, and they will give you expert, impartial advice.
To find out more about our maintenance services for heat pumps in Hamilton and the Waikato region, please get in touch today.
Repairing Heat Pumps in Hamilton and Across Waikato
If you have a problem with your heat pump, we can help. We work with all brands of heat pump and will complete the repair as efficiently and cost-effectively as possible. Our aim is to find the main cause of the problem to ensure the issue doesn't reoccur in the future.
To book a repair callout and to get an estimate for the work, please get in touch.
Heat Pump Installation FAQs
How do I make sure I get the right heat pump system?
When you contact us at Comfort Group, we'll assess your requirements and budget. This assessment will include analysing the space where the heat pump will operate as well as other factors, including the number and location of windows, the standard of insulation, and possible locations for the installation. We'll then give you advice on the best options.
One of the biggest factors to consider is the size of the space, as it's important to ensure the heat pump is capable of keeping your room comfortable.
Will the heat pump you install take up much room?
We install a range of heat pumps in Hamilton and elsewhere in the Waikato region. One of the main factors we consider is the visual appearance of the heat pump when it is installed. Luckily, leading manufacturers take appearance into account, too, as modern heat pumps are sleek and unobtrusive.
In addition, we can often make the heat pump even less visible. Installing a high wall heat pump is one solution, while in some cases, we can recess the heat pump into the ceiling, so it is almost invisible.
How long can I expect my new heat pump to last?
The longevity of a new heat pump is influenced by a range of factors, especially how well it is maintained and looked after. If you get a high-quality heat pump installed by skilled and qualified contractors, and then you properly maintain it, you should expect it to last well past the warranty period of the unit.
What types of heat pumps are there?
There are three main types of heat pump:
Single-split heat pump – this type of heat pump is for heating one room. It features one outdoor and one indoor unit.
Multi-split heat pump – this type of heat pump is designed to heat multiple rooms using one outdoor unit. Therefore, the set-up involves one outdoor unit with multiple indoor units connected to it.
Ducted heat pump – with this type of heat pump, ducting tubes distribute the air from a central unit mounted in either the ceiling space or under the floor to multiple rooms in the house, this will have one outdoor unit.
Your Home Will Be Warmer in the Winter & Cooler in the Summer
With our heat pump solution in place, your home will be comfortable, whatever the weather. It will operate quietly, it will be energy efficient, and it will help to improve the air quality in your home.
Plus, you'll get a 12-month warranty from us and an equipment manufacturer's warranty which can be for up to six years.
Call today on 0508 741 741 to get a quote.